Eggplant Nutrition Values 
Eggplant nutrition values are great, and finding new eggplant recipes is not that difficult.  Look at these two great ideas. You can eat them hot or cold, depending on the mood or meal.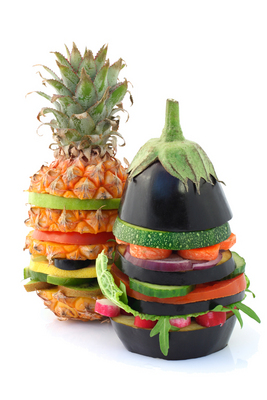 Eggplant is a great source of antioxidants, vitamins, and minerals, fiber and water. It is due to their phytonutrients and phenolic acid compounds, the flavonoids such as nasunin (more about this below). 
Eggplants are also a low calorie food with only about 35 calories per cup.
A member of the night shade vegetable and part of a group of valuable vegetables with loads of antioxidant compounds. This is evident by it's purple color.
Contrary to most vegetables, the health benefits of cooked eggplant, have been shown to even better for us. It is because, cooking it releases eggplant's disease-fighting compounds.
Eggplant is extremely high in Nasunin a type of antioxidants (anthocyanin) found in deeply colored fruits and vegetables. It helps the body fight free radical damage, inflammation, and the oxidative stress (aging).
At the same time, it can help iron become absorbable by the body and binds poisonous molecules and heavy metals that build up in the body.
Other Benefits Facts:
Helps lower Cholesterol


Improves Digestion


Builds Bones


Full of Energy boosting B Vitamins


Protects DNA and cell membranes and cell walls from oxidative stress


Protects the fat (or lipid) layer of the cell membrane


An antioxidant that helps cells process and use nutrients from food


Helps the body discard waste. 


Without antioxidants, toxins and waste build up and can lead to diseases including arthritis, heart disease, and even cancer.
There are warnings about nightshade foods:
Nightshade vegetables are known for causing digestive disturbances in some people, leading to concern over eggplant's ability to produce inflammation and possible harmful reactions. 


Night shade  vegetables are also high in oxalic acid, which has been correlated with an increased risk for forming kidney stones and arthritis for those who have a history of them.

Other Eggplant Nutrition Benefits
Eggplant Nutrition Facts 
One cup of cooked eggplant provides these benefits in the daily recommended vitamins and mineral according to the USDA.  See the chart below for values.
• low calories
• fiber
• protein
• 0 grams of fat
• 8 low carbs
• Manganese
• Vitamin K
• Vitamin B1 Thiamine
• Vitamin B6
• Folate
• Magnesium
• Potassium
• Copper
---
See the Healthy Eggplant Recipe with all the trimmings from the picture above.  I baked mine at 325 degrees for half hour so eggplant was firm cooked.  It was wonderful! 
I would love to try it with different condiments, such as almond oil, ginger dressing, or any other favorite.
Below are the ingredients I bought. It worked out to be about $4.50 per person. Talk about a cheap healthy meal!

Low Calorie content at 205.1 kcal, this is great! My activities to burn the 1362 calories, was only due to daily house straightening, cooking, and playing frisbee with my Service Dog, Truman.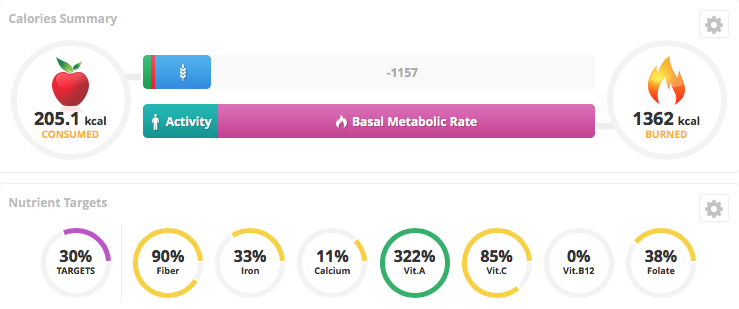 Eggplant-Nutrition Packed!
Look at the Eggplant nutrition values here. 90% of the daily requirements of fiber, Omega-3 and 6, Vitamins A, C, K, numerous minerals, and a great source of vegetable protein.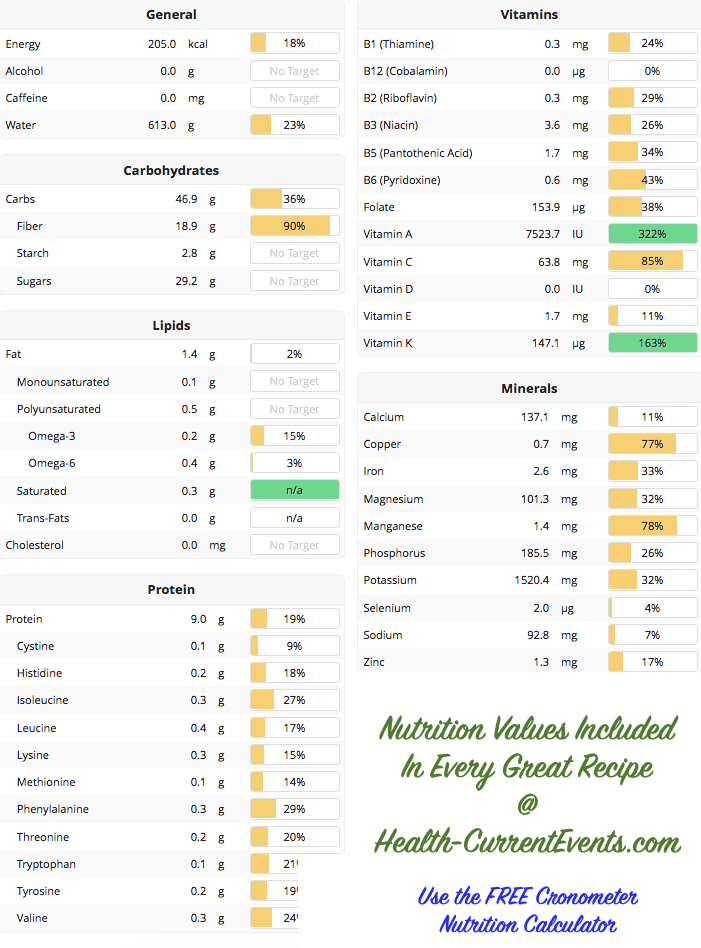 Click here or picture above to use the FREE Cronometer Nutrition Calculator for your next meal.  Never a cost, never a credit card...just free.
Find more ways to put nutritional foods into your diets.
Nutritional Values:
Foods With:
Vitamin C  |  VitaminB6  |  Vitamin E
Go to the Homepage of Health-Current Events

Click any Social Media link to share this page forward. Feel free to Pinterest us too!