Why I Use Amazon

If you are wondering why I use Amazon for everything, I can name one hundred reasons. Here are just a few.

Would you like to enjoy a Free Trial for Amazon Prime?

You can enjoy these features and see how you like it. Amazon Prime pays for itself within just a few uses.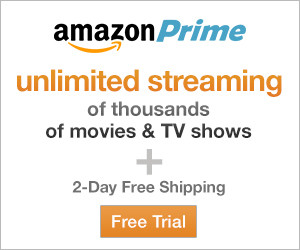 Free Trial of Amazon Prime Membership
Prime Music is a benefit of your Prime Membership, with a growing selection of over 2 million songs, always ad-free and on-demand.

Instantly watch over 50,000 movies and TV episodes with titles for everyone.
Borrow books from the Kindle Owners' Lending Library.
Get unlimited FREE two-day shipping with no minimum order size. This will save you the membership costs alone!

Start your FREE Trial of Prime Amazon now...it costs nothing!

Why I Use Amazon Selling Services

If you sell on Amazon, you can rid your house of all the unwanted items, and get cash or Amazon gift cards.
My book addiction is where I learned how to sell on Amazon.

At one time, I owned a bookstore, as no apartment would fit all my bookshelves. I had them in every room, each being 5 feet tall with 5 shelves, they lined the walls. Included were books that cover every age group, topic, and genre, that you can think of, and my own published books with them. Now, my books are forever rotating, and I have sold all but four shelves worth on Amazon.
It's not a get rich scheme of any sort, it is recycling your books, and other items, for cash to support your book buying habit, to earn a little in Amazon Gift Cards, or even earn cash to buy your families needs. Everything is delivered to your door, and don't forget, only with Prime membership, you qualify for free shipping at Amazon.

Or, of course you can go crazy and sell hundreds of books from anywhere you can find them, and I have heard there are some out there making bundles of cash, but that is not my goal. Personally, my house isn't big enough to store them, and I am not using their Fulfillment Program yet, but you can look into that.

I would tell you to come see my books for sale now, but I did so well that I am sold out at this time. I still have a perfect rating and great feedback on anything I sell. 
It is FREE to start selling, so just click the link to start selling.

Go to the Homepage of Health-Current Events

Subscribe to our Health Current Events Newsletter

Click any Social Media link to share this page forward. Feel free to Pinterest us too!